Why Choose JanTech Building Services, Inc:
Since 1971, JanTech Building Services, Inc. has been making a positive difference in people's lives and businesses. As our specialized cleaning services continue spreading across the nation to meet customer demands, we remain true to our motto: "Keep it local, do it right the first time, and exceed customer expectations."
Request A Free Proposal:
There's no commitment required!
Make Your Best First Impression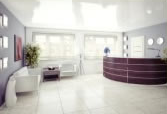 Jantech knows the importance of first impressions.  Our clients are confident they will experience a hassle free, clean, sanitized, well-kept environment as they walk into the door each day. Your clients will know the difference.  Let JanTech make a difference for you and your company today. 
Learn More: